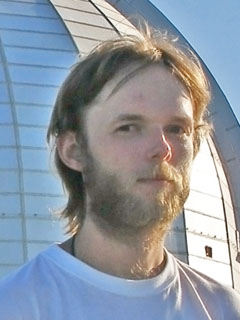 research assistant at Rudolf Peierls Centre for Theoretical Physics, Oxford, UK (since 2015) researcher at Tamm Theory Department of the Lebedev Physical Institute, Moscow, Russia (since 2003)
postdoc at Rochester Institute of Technology, Rochester, NY, USA (2011–2012)
PhD in theoretical physics (2007) from LPI;
graduated from Moscow Institute of Physics and Technology in 2003.
Phone: +7(499)132-6172; email: eugvas@lpi.ru
Dark matter halo structure and evolution
PhD thesis: «Dynamics of dark matter in galactic centers» (in Russian). Abstract, Автореферат, диссертация
The evolution of dark matter in central areas of galaxies is considered (Milky Way is taken as an example). The formation of a galaxy leads to the compression of dark matter halo due to baryonic infall. Traditional method of calculating the compression (Blumenthal method) is shown to overestimate the dark matter density, especially for more flat initial halo density profiles and for radially anisotropic particle velocities. Subsequent evolution is driven by scattering off of dark matter particles on bulge stars and their absorption by the supermassive black hole. It is described by diffusion equation in energy - angular momentum phase space. The diffusion coefficients are calculated, as well as the absoroption and evaporation rate of particles. It is shown that by now the density of dark matter inside central parsec is greatly diminished: approximately 10% of initial dark matter mass is captured by black hole, about a half is evaporated. The annihilation of particles may explain observed gamma-ray flux from Galactic center
Its results are mainly presented in the following papers:
E.Vasiliev, M.Zelnikov, "Dark matter dynamics in the galactic center" (Phys.Rev.D 2008)
E.Vasiliev, "Dark matter annihilation near a black hole: Plateau versus weak cusp" (Phys.Rev.D 2007)
E.Vasiliev, "A simple analytical model for dark matter halo structure and adiabatic contraction" (JETP 2006)
Resonant relaxation around supermassive black holes
D.Merritt, F.Antonini, E.Vasiliev, "A dynamical explanation for the absence of a Bahcall-Wolf cusp at the Galactic center" (submitted)
N-body simulations of self-gravitating systems (galaxies, nuclear star clusters)
Raga — a software for Monte Carlo simulations of non-spherical stellar systems, possibly containing massive black holes.
A number of useful standalone programs for creating and analyzing N-body snapshots are distributed with SMILE, in particular:
mkspherical — create spherical isotropic mass models with a given arbitrary density profile, or analyze dynamical properties of a spherically-symmetrized approximation to a given N-body snapshot;
measureshape — measure the shape (axis ratio) of an N-body snapshot as a function of radius.